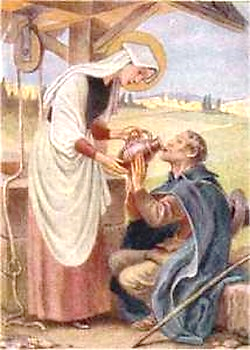 The feast day of St Zita is celebrated on April 27.  St. Zita is the patron of maidservants and housewives.

Zita was born in Tuscany, Italy in 1212. At the age of 12, she became a servant for the Fatinelli household. She was mistreated by her employees and criticized for her hard work by her fellow servants. She continued to be meek and humble and had an inward peace that everyone could see. She was good and loving to everyone regardless of how they treated her. Eventually she gained everyone's trust and was put in charge of the house.
Zita believed that her work was assigned to her by God. She always rose early to pray before work. She attended daily mass and spent the rest of the day working tirelessly.
When Zita died at the age of 60 on April 27, 1271 it is said that a star appeared above the attic where she slept. She had served the family for 48 years. Miracles reported at the time of her death numbered 150. She was canonized in 1696.
There is no place for selfishness…and no place for fear! Do not be afraid,then, when love makes demands.  Do not be afraid when love requires sacrifice.
Quote of St. John Paul II
April is the Month of the Eucharist.
Save
Facebook Comments